Music Business
How K-Pop Fans Became Heroes of the Black Lives Matter Movement
The death of George Floyd in Minneapolis kicked off a political movement around the world, Korean pop music fans have since banded together in a large and unlikely group of activists. [...]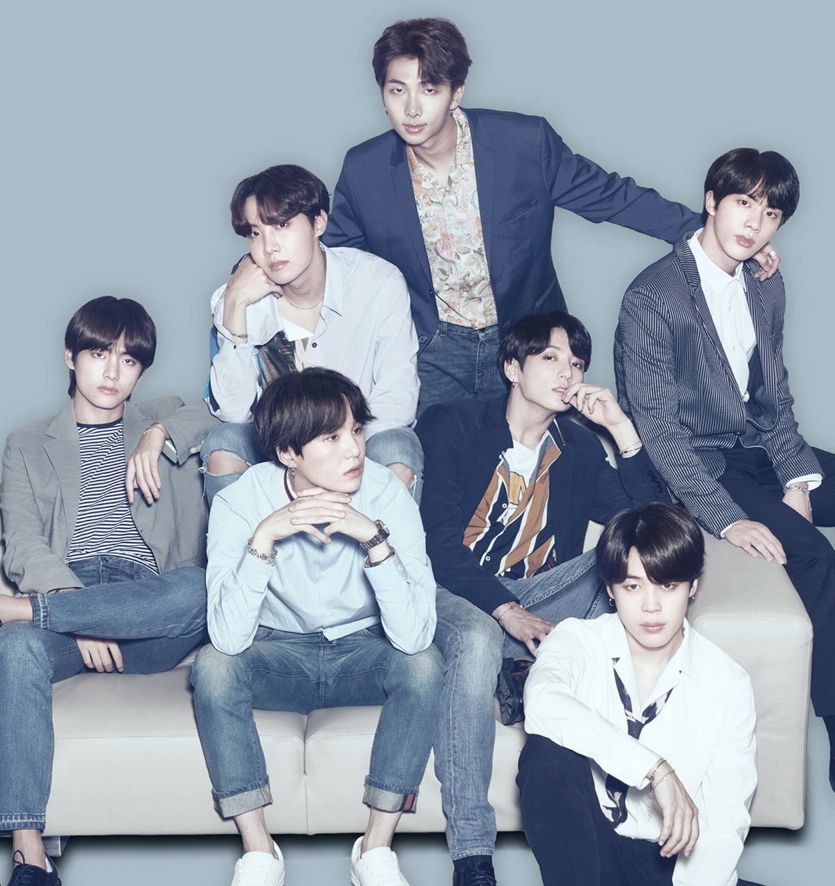 Depicted: A shot of the K-pop band BTS. Photo Credit: LG.
The death of George Floyd in Minneapolis kicked off a political movement around the world, Korean pop music fans have since banded together in a large and unlikely group of activists.
The K-pop scene is dark and unethical in ways that make the American recorded music industry look almost saint-like. Matthew Campbell and Sohee Kim wrote a piece titled "The Dark Side of K-Pop: Assault, Prostitution, Suicide, and Spycams" covering the win-at-all-costs of the K-pop management firms that rule over their artists with an iron fist. For the South Korean government, K-pop is a psyops tool blasted over the border and via radio with the goal of converting North Koreans to the South Korean cause. K-pop artists are also commissioned to perform in front of North Korean dictator and his wife in an attempt to ease tensions between North and South Korea.
The fans are renowned for their extremely active fanbase--spamming unrelated social media conversations with their "fancams"--GIFs or videos depicting K-pop idols dancing for just a few seconds at a time. And now they are using their social media platform for much more than the worship of their idols. Below is a compilation of popular fancams.
Drowning Out Racist Hashtags
K-pop fans used their collective social media muscle--normally used only to promote their favorite artists--to dominate hashtags like #WhiteLivesMatter or #AllLivesMatter. These hashtags have been thought to have racist connotations, at least until the K-pop fans took over the hashtags to drown out racist messages from others.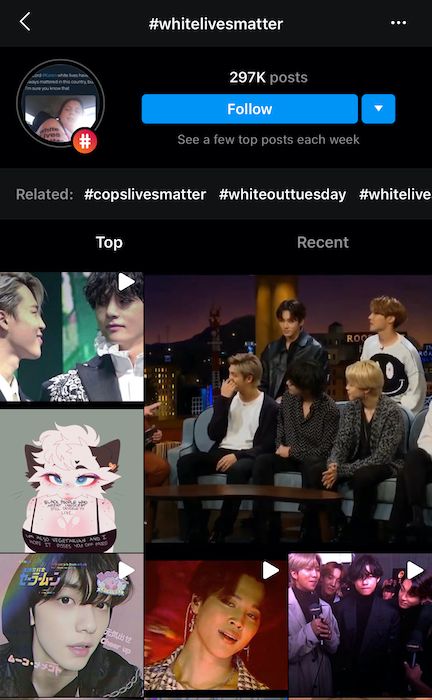 Disrupting the Dallas Police Department's Mobile App
The Dallas Police Department advertised their iWatch Dallas mobile app as a tool to report on illegal activity at protests.
In response, many activists became concerned that reports sent through the app would be used to tattle on legitimate protest activity and encourage more police violence. K-pop fans came to the rescue by sending as many fancams as they could through the app as well as replying to the tweet with fancams. Here is one user's reply:
Just a matter of hours later, the Dallas Police Department announces that the iWatch Dallas app would be temporarily down.
Donating Money to the Cause
Despite a long history of being deliberately apolitical, many Korean pop groups released statements affirming a commitment to racial justice. Below is a tweet from BTS making such a statement:
BTS also donated $1 million dollars, which their fans began matching with the #MatchAMillion hashtag. Various popular fan accounts claimed to have matched $1 million in 24 hours.
Reserving Tickets for Trump's Rally
President Trump made the controversial decision to announce a campaign rally on Juneteenth (June 19th, 2020) in Tulsa, Oklahoma. The rally was later rescheduled for the following day on June 20th. The rally was to be held in the BOK Center, which has a 19,000 seat capacity.
A former campaign worker for Pete Buttigieg posted a video on TikTok calling on others to reserve a seat for the rally online and then not show up.
K-pop fans heard the message and allegedly began requesting tickets en masse. Brad Parscale--President Trump's campaign manager--hyped up the Tulsa event in the days leading up to it, claiming that they had received over one million ticket requests.
Given that the BOK Center can only hold 19,000, the Trump campaign had initially planned for President Trump and Vice-President Pence to give additional speeches on an outdoor stage. Those plans were later cancelled before the rally.
During the rally, journalists noted all of the empty seats inside the BOK Center--suggesting that attendance was drastically lower than expected. The Trump campaign blamed various things--such as the coronavirus or protesters that journalists could not find.
The Trump campaign claimed that 12,000 people went through the metal detectors to attend the rally, but the fire marshal at the event claimed that fewer than 6,200 people scanned their tickets at the event.
After the rally, Brad Parscale released an official statement on behalf of the Trump campaign denying the impact that K-pop fans had when it came to inflating the ticket count. It was rumored that Ivanka Trump and Jared Kushner were "pissed" at Brad Parscale for his wildly inaccurate crowd size estimates.
The New York Times later ran a piece about the K-pop stans and "Alt TikTok" users that claim to have pranked the rally, and another piece describing how shocked President Trump and senior administration officials were at the low turnout.
Ultimately, the K-pop fans won the day. And most likely, they're just getting started.